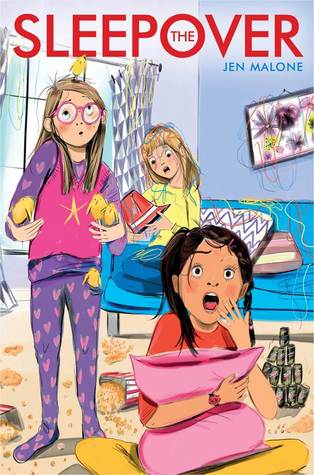 "Waiting On" Wednesday is a weekly event, hosted by
Breaking the Spine
, that spotlights upcoming releases that we're eagerly anticipating.
From Goodreads:
A kid-friendly spoof of The Hangover!
Though she's never done it before, twelve-year-old Meghan is determined to make it through lights-out at her best friend's sleepover. She's also ready to have The. Best. Night. Ever. and her friends Paige and Anna Marie are happy to bring on the fun. There will be miles of junk food, stacks of crazy-scary horror movies, and hours of karaoke smack-downs! Not even the last-minute addition of Anna Marie's socially awkward soon-to-be stepsister Veronica can dampen their spirits.
But nothing prepares them for the scene that greets them the next morning. The basement is a disaster, Meghan's left eyebrow has been shaved off and she somehow has the Class Bad Boy's hoodie, plus there's a slew of baby chicks in the bathtub! Worst of all, Anna Marie is missing.
Now the remaining girls have to piece together what happened the night before. There's just one teeny, tiny problem: None of them can remember anything past the two-bit act by the hypnotist Veronica hired as the party's entertainer.
Can they find Anna Marie and pull off the ultimate save-face . . . all before parent pick-up time? The clock is ticking, the clues are getting weirder and weirder, and only one thing is certain: last night got a whole lot zanier than games of Truth or Dare.
How great does this middle grade version of The Hangover sound? I can't wait for this release.
Take care,
Marian