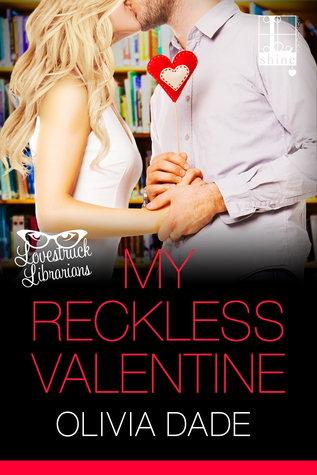 1. My most recent read is My Reckless Valentine by Olivia Dade. This story focuses on library manager, Angie Burrowes. Sure, she's a hard worker. But she also likes to have fun at the library. Too much fun. After a rough meeting with her superiors one day, she meets Grant Peterson on her drive home. After much flirtation, the two hook up and realize that they have a real connection. They really like each other. But little does Angie know that Grant is about to become and even bigger part of her life. And not necessarily in a good way. Will the two be able to work things out and still let their developing relationship,
develop
?
2. I love, love, love Angie. She's like, the perfect female protagonist in my honest opinion. She's funny, takes her work very seriously, but also knows how to have fun. I liked getting to learn a little more about her backstory when she and Grant went to dinner with her sister and parents. It just goes to show that everyone has a story!
3. The library patrons of the Battlefield branch are so funny. One of the main plots of the book is that Angie invented a sex scene writing contest for the patrons to participate in for Valentine's Day. Angie has to keep the contest a secret though, because her superiors won't approve of such a scandalous event. Reading about the different patrons who participated in the contest was seriously amusing.
4. Angie's librarian friends are so funny. By far, one of my favorite chapters in the book was when she went out for drinks with all her girlfriends. It's funny to hear about the different trials and tribulations at their different libraries. It's also funny how they all love to know everyone else's business.
5. This book is part of the Lovestruck Librarians series by Olivia Dade. I loved reading about Angie and her friends in this book so I'm going to have to check out the first book in the series, ASAP!
Take care,
Marian