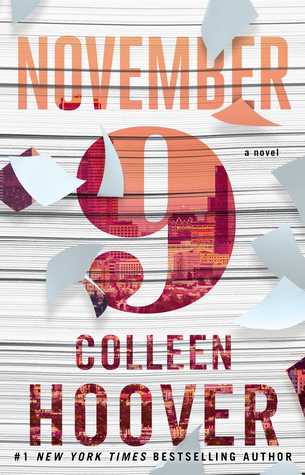 1. This book (as with all Colleen Hoover books) is not for the faint of heart. You will swoon. You will laugh. You will get goosebumps. You will cry (or at least tear up a little bit, come on!). I just wanted to give you fair warning.
2. I loved the plot!
Basically, Fallon and Ben have an unusual meeting in a restaurant on what just happens to be Fallon's last day in California before moving across the country to New York. The two have an undeniable chemistry though, so they come up with a plan. Next year (and every year after for five years) they will meet up on the same day that they met (November 9th) in the same place, with no communication in between.
This goes about as well as you expect it would. lol But as Fallon and Ben get to know each other better over the years, she starts to question whether he is being honest with her or if he is creating the story that he wants.
3. I love when authors have their characters crossover into different stories and so it was fun to get to see Miles and Tate from Ugly Love have brief cameos in this book.
4. Colleen Hoover does it again, folks! The plots for her novels are always very complicated and they always have a neat plot twist that you don't expect and this book is no exception. The way this story unfolds is really crazy but really interesting.
5. This is a no spoilers review so all I'm going to say is that the ending did not sit well with me. I felt that the actions of certain characters were forgiven too easily and the character that was forgiven too easily did not even really apologize. That's super vague but if you want to know what I'm talking about, read this book. :)
Take care,
Marian