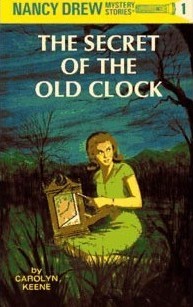 1. So this is the first book of the Nancy Drew Mystery Stories series. I'm trying not to freak out about the fact that I'm reading them out of order. Haha. But as it turns out, the books get better as you go. So that's good.
2. Since this is the first book, this is when we are first introduced to Miss Nancy Drew. She's a pretty eighteen year old girl with a blue convertible. So basically she's the coolest! Her Dad is Carson Drew and her housekeeper/motherly role model is Hannah Gruen. Her Dad is a lawyer and sometimes he gives her odd jobs to do in order to help his cases.
3. I feel awkward saying this because these books are intended for children, and I am a 24 year old woman, but... This was a crazy mystery! Basically, Nancy goes on a wild goose chase to track down a man's will because the people who are inheriting all his money don't deserve it and she has reason to believe that there is a second will but it is hidden somewhere.
4. I like how Nancy's Dad basically treats her like a grown up even though at eighteen years old, she's still essentially a kid. Just another example of how living in Nancy Drew World is basically the best.
5. It made me LOL at the end how when they were reading the will and Mr. Topham received $5,000, Mrs. Topham was so outraged that she and her daughters didn't receive anything. It reminded me of in Mean Girls when they're like, "And none for Gretchen Weiners." haha
Take care,
Marian