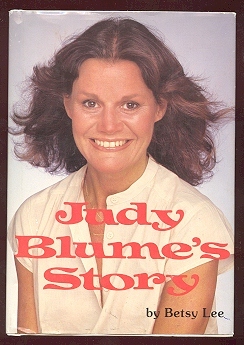 1. I picked up this book at a used book sale because I love Judy Blume's books and was interested to learn a little more of her life story and about her writing process.
2. This was an interesting read because while this biography does explain how Judy got published, it also talks a lot about her early life and her family.
3. I never realized how much her own life influenced her writing! The book Starring Sally J. Freedman as Herself was based very closely off of her own childhood in which her family moved from New Jersey to Miami and went through a lot of changes. It makes me wonder if Judy sent fictional letters to Hitler like Sally did! Haha.
4. It was interesting to find out that there were a lot of similarities in her preteen years and Are You There God? it's me, Margaret. Judy and her friends had a secret club, too. Her first kiss was with the school heart throb too, just like Margaret's was with Philip Leroy.
5. Judy's early twenties were focused mainly on her marriage and her children, until she realized that her life was missing the creativity that it used to have when she was in school. She started writing on the side and her first published work was Iggie's House.
Pretty cool, huh? I'm glad I got to learn these facts that I may not have learned otherwise about this author I like.
Read my review of
Iggie's House
here!
Book mentioned in this post:
1.
Starring Sally J. Freedman as Herself
2.
Are You There God? It's Me, Margaret.
3.
Iggie's House
Take care,
Marian